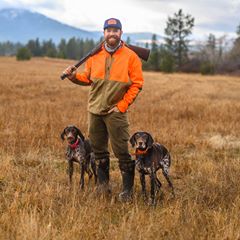 A bird hunting podcast that respects your time ... and intelligence. Concise and to the point!
This week: more than a dozen of your questions are answered by this bird-dog-owning, chukar-hunting veterinarian, Seth Bynum. From "mean seeds" to when-to-neuter, rattlesnake bite first aid to what he never leaves home without, Seth has advice for every bird hunter and dog owner.
You'll find out what you're doing wrong - and right - to your dog, as well as a "final answer" to the grain-free dog food question that may surprise you.
Plus, a public-access spot in North Dakota for sharptails, dog care and feeding tip and a ton 'o fun. Discounts on gear, too!