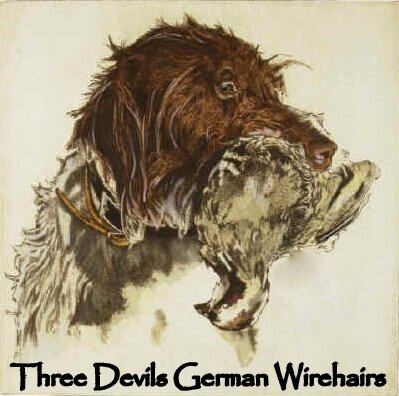 On this bird hunting podcast, wisdom and insights from a breeder/trainer with 30 years' experience. Jeff Funke of Three Devils Kennel of Nampa, Idaho, is my wirehair supplier, for good reason. His dogs are biddable, birdy, and beautiful. A chukar hunting fanatic, Funke has firm beliefs, interesting training strategies and a world of expertise on the hunting side.
A test judge, clinician, and successful breeder of champion dogs, Jeff answers question on picking a pup, what you should and shouldn't do with that young dog, he gives us background on a number of dog training/testing groups he's been deeply involved in, and tells the backstory on why some of the principle founders of NAVHDA formed another group.
Why a new "federation?" And another "alliance?" What are the benefits of each? Jeff offers up his own three "golden rules" that form a great hunting dog … why resilience is the key to puppy development and formal training, and how to breed/pick good versatile hunting dogs. He outlines the difference between training a field-trial dog and a hunting dog … and how wild birds train the dog.
Jeff also offers chukar hunting strategies and tactics, including some that will surprise you that flaunt the conventional wisdom on these "devil birds."
You also get dog training tips, another publicly-accessible place to hunt, gear discounts and a chance to win a Pointer shotgun. And it's all brought to you by these sponsors - check out their deals:
Cabela's, Sage & Braker Mercantile, Electronic Shooters Protection, Dogtra, Dr. Tim's performance dog food; FindBirdHuntingSpots.com and Gunner Kennels.
Take advantage of great deals from many of our sponsors: 10% off and free shipping on any purchase over $200 at Dogtra with the code SLUN10 (plus sale prices on many collar-transmitter bundles); win a Pointer shotgun at FindBirdHuntingSpots.com; 30% off your first order from Dr. Tim's with the code UPLANDNATION; and financing on your Gunner Kennel. May 1-4, you also get $75 off your new Gunner!