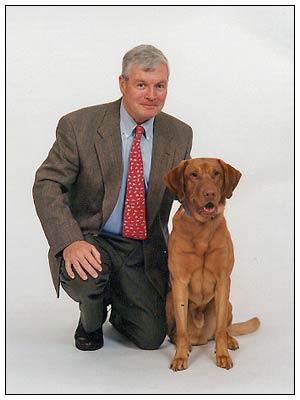 Author of the classic book Absolutely Positively Gundog Training, Robert Milner talks philosophy and practical applications of his minimalist-positive-science based approach to training.
Milner founded Wildrose Kennels, "retired," then founded www.duckhillkennels.com, where he trains British Labradors in ways you may not know about yet or even agree with! A student of "horse whisperer" Ray Hunt, Milner talks about the right number of training days per week and times per day to get maximum performance from your dog. He outlines why "punishment" or "correction" are superfluous if you read your dog well and reward the expected behavior, and what types of reward work.
Creating neural pathways that create "right" behaviors, from the very start, ignoring misbehavior, and how B.F. Skinner's operant conditioning research can be applied to dogs ... all are part of a wide-ranging discussion that only scratches the surface.
Milner gives us mini-lessons in recall, retrieve, and steadiness to wing-shot-fall, suggests the one most important command, and offers solutions to the problems his clients' dogs have most often.
Milner was a pioneer in importing British-style Labradors to the U.S., and he'll also outline how those dogs differ from American-style retrievers, and how English field trials work.
Plus, my own tip on a slightly-different way to look at public land access and information, a hard-earned lesson in yard training, gear discounts and a chance to win a Pointer shotgun. All brought to you by these sponsors - check out their deals:
Cabela's, Sage & Braker Mercantile, Electronic Shooters Protection, Dogtra, Dr. Tim's performance dog food; FindBirdHuntingSpots.com and Gunner Kennels.
Take advantage of great deals from many of our sponsors: 10% off and free shipping on any purchase over $200 at Dogtra with the code SLUN10 (plus sale prices on many collar-transmitter bundles); win a Pointer shotgun at FindBirdHuntingSpots.com; 30% off your first order from Dr. Tim's with the code UPLANDNATION; and financing on your Gunner Kennel.