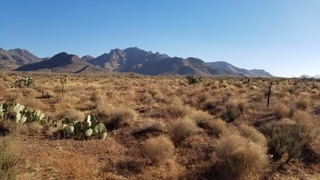 Exotic Arizona ... warm, late season and some less-common quail species. Phil Wechsler is an expert on Gambel's, scaled, and Mearn's quail and hunting them in the unforgiving terrain of southern Arizona. His advice on dogs, tactics, and strategy is relevant anywhere, any time.
Plenty of travel tips, as well, including where to go if your trailer-full of dogs is overheating - Pronto!
Phil's mid-season HQ is South Dakota, so he's got suggestions for you sharptail, Hun, and pheasant hunters too. From dog training to foot care, the practical experience Phil offers is worth its weight in megabytes.
You also get another public-access spot if you're hoping to round out your quail grand slam, so download today!