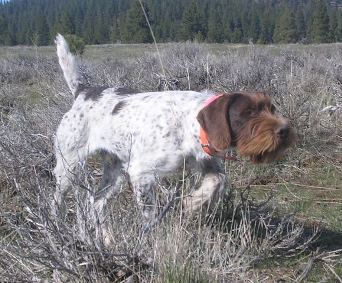 Kelly Jobes of Bone Point Kennels has been breeding, training, testing and hunting German Wirehaired Pointers for two decades, living the chukar hunting life even longer! His hard-earned advice will help you become a better hunter no matter what kind of bird you're chasing.
From puppy care and socialization to physical fitness for the both of you, shooting tips, and where to start your chukar hunt, Kelly knows of what he speaks. Save yourself time, effort, frustration and energy with some of his tips.
Plus, when to give a command or praise and why, and travel tips that could help you keep your dog "found" and of course, a chance to win a Pointer shotgun.
All brought to you by these sponsors:
Cabela's, Sage & Braker Mercantile, Electronic Shooters Protection, Dogtra, Dr. Tim's performance dog food; FindBirdHuntingSpots.com and Gunner Kennels.
Take advantage of great deals from many of our sponsors: 10% off and free shipping on any purchase over $200 at Dogtra with the code SLUN10 (plus sale prices on many collar-transmitter bundles); win a Pointer shotgun at FindBirdHuntingSpots.com; 30% off your first order from Dr. Tim's with the code UPLANDNATION; and free shipping on your Gunner Kennel.