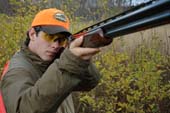 Marissa Jensen and Colby Kerber of Pheasants Forever share their expertise on turning your friends and family into fellow hunters - from identifying hot prospects to sustaining their interest. What motivates newbies, typical objections, great "entry points" for a discussion about hunting are all covered.  We get an update on the progress their own initiatives are making in this area, and most importantly, we learn how important it is to create new hunters - for the habitat and the sport.
There's a dog handling tip on timing of commands - what to watch for - plus the reader poll on what type of shotgun you're buying next. Our public access segment looks to Central Washington for a valley quail spot.
It's all brought to you by these sponsors:
Cabela's, Sage & Braker Mercantile, Electronic Shooters Protection, Dogtra, Dr. Tim's performance dog food; Happy Jack, FindBirdHuntingSpots.com and Gunner.
Take advantage of great deals from many of our sponsors: 10% off and free shipping on most purchases over $200 at Dogtra with the code SLUN10 (plus sale prices on many collar-transmitter bundles); win a Pointer shotgun at FindBirdHuntingSpots.com; 30% off your first order from Dr. Tim's performance dog food with the code UPLANDNATION; and free shipping for your Gunner kennel.