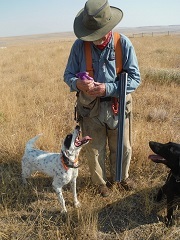 You've seen him on my TV show a lot, for good reason. This guy knows wild birds: pheasants, sharptails, Huns, sage grouse … and I've shot them all with his help. He has a sixth sense about how to find birds on the vast Montana prairie, and will share that with all of us.
Al will also outline his strategies, tactics, shooting advice (he is a sought-after spaniel trial gunner) and even his love for vintage side-by-sides. Some unique dog handling techniques and insights into the natural world are all on the docket.
He'll tell us what the biggest mistakes hunters make in the field are, and how to correct them.
Plus a publicly-accessible hunting spot, a trivia question and prize, and none of the junk that you would fast-forward through. We get to the meat of the matter. Concise, focused, useful information from experts who can string a few words together and help you become a better dog owner, hunter, and shooter.