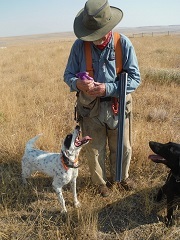 I'll cover their history, our heritage, places to go and how to hunt them. From Gen. George Armstrong Custer to Theodore Roosevelt National Grassland I'll give you starting points, some guide-tested unorthodox tactics, and explain as best I can how "America's bird" thinks and behaves.
We'll cover prime habitat and hunting in a circle, using dogs as blinds, where to go in South Dakota (and other states); I'll give you a jump-start on chasing these fascinating, native birds. Best dog breeds, equipment and shotgun recommendations, too!
"Handle It" covers the dilemma of hunting two dogs simultaneously – the up and downside. I'll suggest a ruffed grouse hunt in the Northeast Kingdom, and it's all brought to you by:
Cabela's, Sage & Braker Mercantile, Electronic Shooters Protection, Dogtra, Dr. Tim's performance dog food; Happy Jack, FindBirdHuntingSpots.com and Gunner.
Take advantage of great deals from many of our sponsors: 10% off and free shipping on most purchases over $200 at Dogtra with the code SLUN10 (plus sale prices on many collar-transmitter bundles); 30% off your first order from Dr. Tim's performance dog food with the code UPLANDNATION; and free shipping for your Gunner kennel.