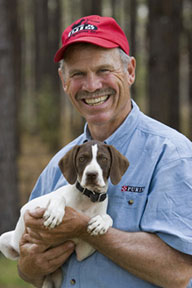 A dog training and trialing legend, George Hickox has honed his skills not only training champion bird dogs, but canines for our Special Forces. On this podcast, he'll offer insights into dog psychology, practical tips on how dogs learn whether pups, adult dogs, or other people's dogs
What happens at a pro trainer's "summer camp?" George will tell us. He'll explain the critical way of thinking we should adapt to ensure your dog works with you, and a few things you need to watch for in terms of dog health and safety.
Plus, how a dog thinks & why, the only two rewards your dog wants, and the answer to the question: Why clicker training? Hickox offers help training steadiness if you don't have access to wild birds, plus his "four curses" of dog training.
As always, I'll introduce you to a free and accessible place to hunt, answer a listener's question, a give you a "pop quiz" with a prize.