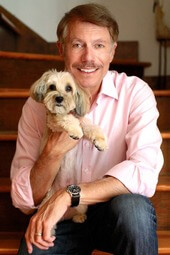 Grain free tempest in a teapot? Why is corn in a carnivore's food? Dr. Mike Sagman, founder of the definitive site dogfoodadvisor.com will answer all your questions. Clear, unbiased evaluations of dog food are the goal, and Mike has seen it all, rating food on his website since 2008.
What government agency monitors dog food, and what do they regulate? The problem with calcium in a puppy food, difference between meats and "meat meals." How dog food is made, why not all "byproducts" aren't bad ... what to look for on a dog food label - it's all right here.
Why all those wacky ingredients from quail eggs to blueberries? And which ingredients you should avoid at all costs. The importance of rotating feed, and how manufacturers try to pull the wool over your eyes with "ingredient splitting." What nutrients are really, truly "essential," and the dubious value of carbohydrates in dog food.
You will be a better-informed dog owner and your dog will be safer and healthier when you're done listening!
Plus product discounts, a chance to win a shotgun, one of Scott's top-three states to hunt public land and why, and a dog handling tip that could get you another chance at a wing-clipped bird ... all in this episode!