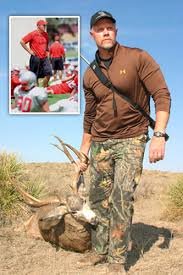 Former pro football player, strength and conditioning coach, hunter, Lab owner, Mark Paulsen now devotes his considerable energy to WildernessAthlete.com. His supplements and other products were originally conceived to help hunters perform better under the stresses they encountered in the field.
Now, he's helping our four-footed friends achieve peak performance, too. From hydration to nutrition, exercise to performance psychology, Mark has advice of all types for those of us who put one foot in front of the other in pursuit of game birds - and bird dogs.
We cover the two critical exercises for bird hunters, timing of supplements and what to look for in nutritional products, how they work, how you and your dog can better recover for a second-day hunt.
Plus, "This Land is Your Land" helps you narrow down your chukar-hunting search, and in the "Handle It" segment, how where you train is as important as what you train, and of course, a chance to win a Pointer shotgun.
All brought to you by these sponsors:
Cabela's, Sage & Braker Mercantile, Electronic Shooters Protection, Dogtra, Dr. Tim's performance dog food; FindBirdHuntingSpots.com and Gunner Kennels.
Take advantage of great deals from many of our sponsors: 10% off and free shipping on any purchase over $200 at Dogtra with the code SLUN10 (plus sale prices on many collar-transmitter bundles); win a Pointer shotgun at FindBirdHuntingSpots.com; 30% off your first order from Dr. Tim's with the code UPLANDNATION; and financing on your Gunner Kennel.