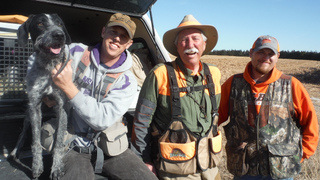 In this edition of the bird hunting podcast, I go pocket-by-pocket through my own hunting vest. Somewhere in that mess is something you forgot, wish you had, gotta get, or never thought to bring. Take it all, and 1) you'll soon be in better shape because it's heavy; 2) you'll hunt harder, longer, safer, and so will your dog.
From ammo to zippers and everything in between, here's the stuff I take on every hunt ... and why. Plus, some of the hard-earned lessons on why I bring that gear now, and wish I had in years past.
Plus, a public-access hunting spot or two in Texas, advice on thinking like a dog to train better, and of course, a chance to win a Pointer shotgun.
All brought to you by these sponsors:
Cabela's, Sage & Braker Mercantile, Electronic Shooters Protection, Dogtra, Dr. Tim's performance dog food; FindBirdHuntingSpots.com and Gunner Kennels.
Take advantage of great deals from many of our sponsors: 10% off and free shipping on any purchase over $200 at Dogtra with the code SLUN10 (plus sale prices on many collar-transmitter bundles); win a Pointer shotgun at FindBirdHuntingSpots.com; 30% off your first order from Dr. Tim's with the code UPLANDNATION; and financing on your Gunner Kennel.